Tribhuvan University Examination Controller office today publishes a notice for the students and colleges to fill examination form of 3 Years LLB Third Year for both regular and partial students (Including Chance Examination). Students should fill the examination form within Magh 22 2074.
With double fee: Up to Magh 29, 2074
Colleges have to submit the collected applications form to Exam controller office within 2 days of passing of normal deadline and double fee deadline respectively.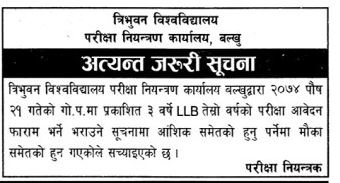 Please read the official notice below: