Kathmandu, June 23: Government of Nepal, Ministry of Home Affairs (MoHA) declared public holiday in 35 districts across province no 1, 5 and 7 on June 28 (Ashad 14) in view of the second phase of local level election which is going to held on Ashad 14.
As the government employees, non-governmental ones alike will be mobilized for facilitation during the poll and rendering services could be adversely affected on the day, earlier election commission of Nepal has asked the MoHA to grant public holiday for all government offices, semi-government and public institutions on that very day, according to the Commission's Spokesperson Surya Prasad Sharma.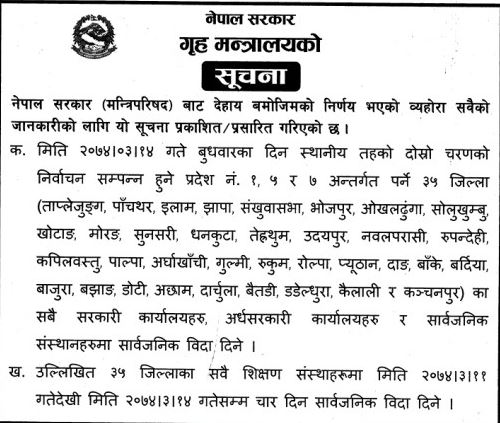 Similarly government has announced public holiday for the academic institutions from June 25-28 (i.e. Ashad 11-14).