Notice for the intent of accepting Consultation Service
This notice has been published to notify the purchase of Consultation Service in the investigation work, for the Educational Research and Development Branch, under the department of education. Considering various technical and financial factors following organizations have been selected.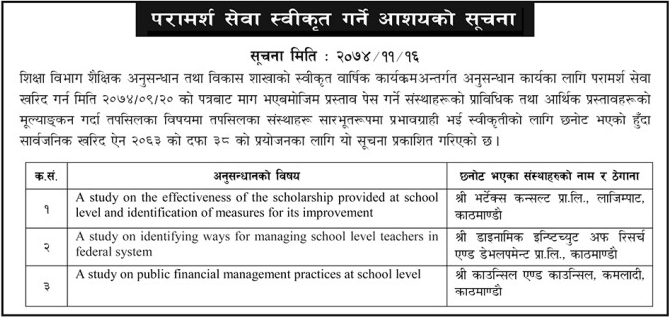 Information on scholarship examination under Budhanilkantha School and Partnership Program:
Notice for providing scholarships for hard-working and talented students of the community schools, which would enable them to study at free of cost or with bare minimum cost has been published.
The scholarship is provided for bearing the cost to study from classes 5 to above. Budhanilkantha School, Kathmandu and schools of the partnership program which are a part of the Ministry of Education have set various qualifications to participate in this scholarship test which is to provide to students with low financial status.
The student should be born on 2064 or 2065 B.S. and should be studying in a community school for at least 2 years and should have studied in grade 4 in the educational year of 2074 B.S. Open competition would be done to select the student from various geographical regions and communities.
Examination Date: Chaitra 28, 2074
Examination Time: 11:00 a.m.
Examination Centers: Fidim, Okhaldhunga, Damak, Dhankuta, Lahan, Janakpur, Nijgadh, Bharatpur, Dhulikhel, Chirkot, Bidur, Dumre, Kusma, Jomsom, Tansen, Gorusinghe, Ghorahi, Nepalgunj, Musikot, Simkot, Jumla, Surkhet, Attariya, Sanfebagar, Dadeldhura.
Forms can be downloaded from the website.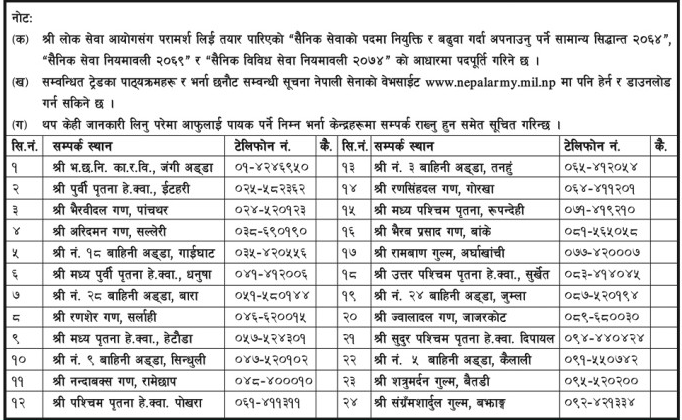 Information for the Concerned People regarding Technical and Professional Education (9 – 12)

Since the Government of Nepal has started study technical related education in classes 9 – 12 of Community Schools from 2070 B.S. 284 schools are now currently operating this program in their schools. For the concerned organizations following information has been published.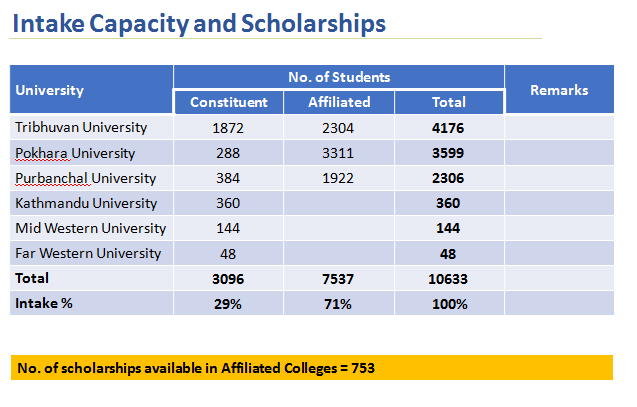 Scholarship Program Targeting Students with Difficult conditions 2074 B.S. (Remaining Part)
Various criteria have been mentioned to select the students for the scholarship program. Information regarding the scholarship program has been published in Part 5, 6 and 7.