Jajarkot: In the absence of classrooms, 101 students of grade 8 of Tribhuvan Secondary School are obliged to study in the congested classrooms, without desks and benches and with no proper place to keep their books, copies and bags.
For the past few days, the temperature has been increasing rapidly. The students are compelled to study in classrooms with tin roofs. "The classrooms are congested and are without desks and benches", said Sonam Acharya, a student of class 8. Due to the excess student, the class is noisier which makes it difficult to understand what the teacher is teaching." Another student, Kareena Rokaye also agree with this.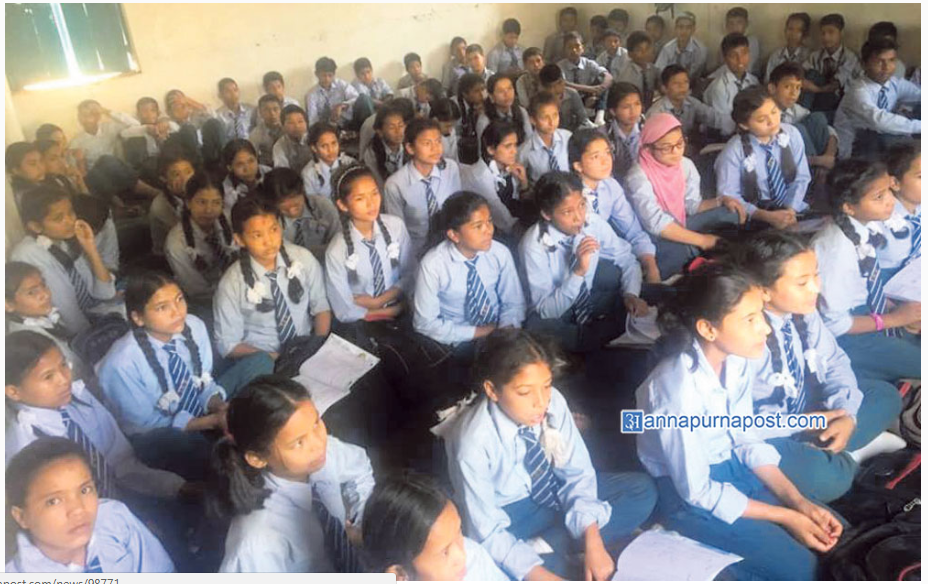 According to the education rules, there should be the presence of 40 to 50 students in each section. However, there are more than the double number of students studying in the same class which results in difficulty in the teaching process. Consequently, the effective teaching process could not take place. 'Due to exceeding number of students, there is trouble in checking homework, performing classwork and experimental activity.


In educational rules, there is the provision that each section should consist of 40 to 50 students in a classroom.
The School administrative informed that at the beginning of academic year, there were two sections in class 8. However, later students of both sections were taught in the same class as there were no extra classrooms. There was the lack of classroom after the five-roomed school building was demolished after the then Education Office decided to prove a four-roomed building to be used by the school. However, the construction of the building has not started yet. Vice principal, Satya Narayan informed that currently there are altogether 9 classrooms in the school. In those classrooms, there are two rooms for class 10, three for class 9, one classroom for both class 7 and 8 and two classrooms for class 6. In class 9, there are more than 200 students. There were four sections in class 9 however, it has now been reduced to only three sections. Along with class 9, other classes also consist of more than 70 students per section. There are altogether more than 600 students from class 6 to 10.

Principal, Heramba Bahadur Shah informed that more than 100 students were being taught in the same classroom for a period of time, however, as soon as the new building will be constructed, there will be the provision of making different sections. The insufficient physical infrastructure along with an inadequacy in the appointment of teachers in comparison to the number of students creates an issue. He added that they had been compelled to keep a large number of students in the same classroom due to the lack of classroom.
Annapurna Post