Nepalese Scientific Association in Switzerland (NepSAS) is organizing the third edition of Swiss-Nepal Technology Transfer Workshop with the support of Embassy of Switzerland in Nepal.
The workshop will be held in Kathmandu on January 2, 3 and 5, 2019. In the workshop participants with early-stage startups or startup ideas will be mentored by experts from around the world. With the help of mentors, you will develop contextualized technologies for local challenges and opportunities in a trans disciplinary team.
The teams will be formed by speed-dating among the selected candidates. It will be held on December 29, 2018. Followed by speed-dating, mentors will be assigned matching the ideas of teams with the expertise of mentors.
Click here to apply for this event.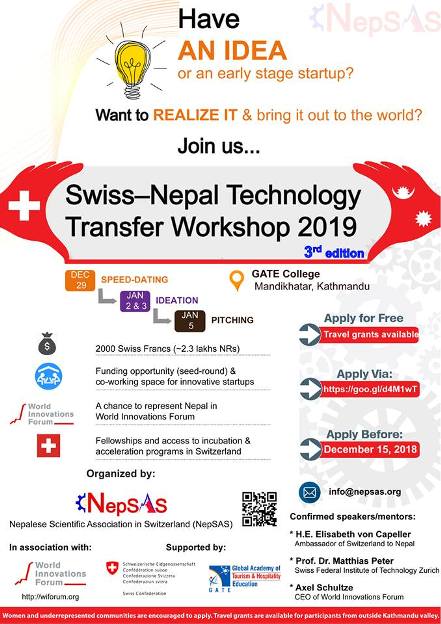 The selection is very competitive with less than 10% acceptance rate in previous years. So, please put efforts before submitting your application. The winner of the workshop will receive cash prizes, and an opportunity to implement your idea with seed investment.
Applicants from underrepresented communities and women are encouraged to apply. We have travel grants for participants from outside Kathmandu valley.
ALL FREE OF COST!!!
Key Dates:
Application deadline: December 15, 2018
Speed-dating: December 29, 2018
Workshop days: January 2, 3 and 5