Oli and Associates Australian Education Fair 2019, is an innovative and educational event. The event is going to be held at different cities of the country namely, Kathmandu, Pokhara, Butwal, Chitwan, Birtamod, Itahari, and Biratnagar.
The Educational Fair features ample amount of resources for students to take note for their studies in Australia. The event proudly represents itself to be the most comprehensive guide for studying in Australia. It is an opportunity for students to discuss how they can apply and find appropriate information regarding the college and course they are interested in.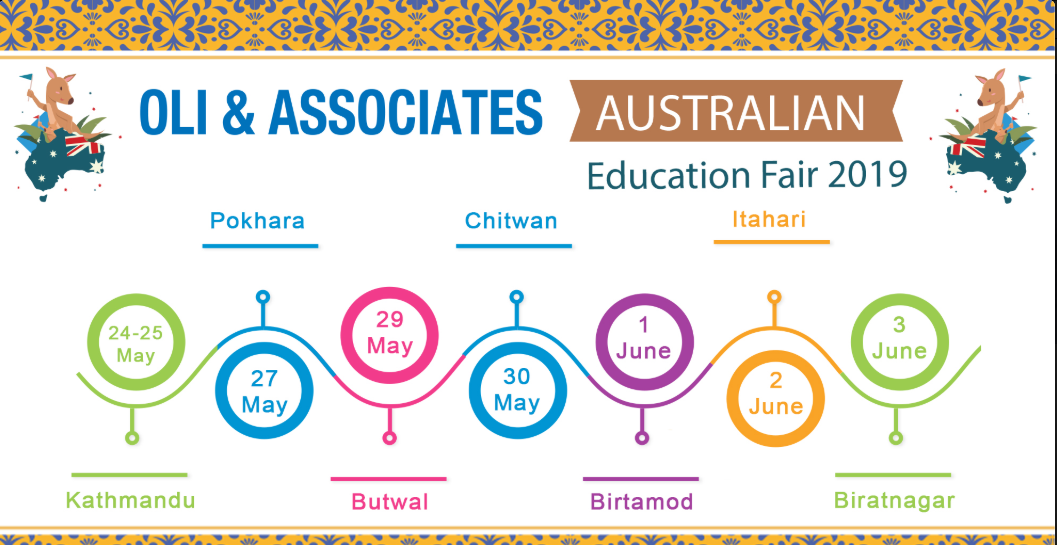 The Fair also creates many immersive experiences for teachers, guardians, and administrators in these approaches through different exhibitions, workshops, presentations, screenings, and performances. The event will also provide activities like lucky draw to build a fun, memorable and exciting experience for all.
The highlights of the event are the guidance on scholarships and on the spot assessment. Special counselling session will be available for the parents.
Register at www.oli.com.au/register
Main Attractions of the event:
Scholarship Opportunities
Meeting with university experts
Loan info from Reputed Banks
VISA Counseling Session
Offers and Waivers
Attractive Gift Hampers
Lucky Draws
Free Refreshments
Venue:
Kathmandu

Nepal Pragya Pratisthan, Kamaladi
24th – 25th May, 2019
10 AM – 4 PM
Birtamod
Adarsha Banquet, Birtamod
1st June, 2019
10 AM – 5 PM
Itahari
Hotel Manshanta Green Palace
2nd June, 2019
10 AM – 5 PM
Biratnagar
Hotel Namaskar, Biratnagar
3rd June, 2019
10 AM – 5 PM
Pokhara
Nirmal Shanti Niwas, Zero KM, Pokhara, Kaski
27th May, 2019
10 AM – 4 PM
Butwal
Level 2, Siddhartha Highway, Milanchowk
29th May, 2019
10 AM – 4 PM
Chitwan

Lions Chowk, Narayangarh
30th May, 2019
10 AM – 4 PM