This is to notify all concerned that the Nepal Health Research Council is now taking the application for its upcoming Capacity Building Workshops for the Fiscal Year 2073/74.
NHRC will conduct two capacity building workshop on Research proposal development with 25 participants on each training.
Eligibility Criteria for Capacity Building Workshop for Proposal Development
At least Bachelor Degree in Health Sciences (Medicine, Ayurveda, Public Health, Nursing, and Pharmacy) + At least one year experience in health sector.




At least Bachelor Degree in Health Related Sciences (Health Education, Sociology, Anthropology, Psychology, Population Studies, Rural development, Environmental Sciences, Microbiology, Geography, Statistics, and Economics) and at least two year working experiences in health sector after the completion of Bachelor Degree.



Documents to be submitted for the entire training workshop
Updated Curriculum Vitae (CV)




Photocopy of Highest Degree Received




Filled up Application Form with recent Photo




Photocopy of Experience Letter




Recommendation Letter from Institute (Who are affiliated with Institution)



Other Terms and Conditions for Types of Training Workshops
Fee: Application form fee (Registration fee) for Training Workshop is Rs. 6000.00 per person which will not be refunded.



Selection Process: The participants will be selected on the basis of their need and experience.


Same candidate can not apply for more than one Training Workshop in a single fiscal year.



All the applications forms submitted before the publication of this notice will be cancelled and need to resubmit for this fiscal year. The forms having not fulfilled the above mentioned criteria will be rejected.

100% attendance is required; otherwise certificate of participation will not be issued.
Tentative days: Not published




No. of Participants: 25 (Twenty Five)



Training Days: 10 (Ten)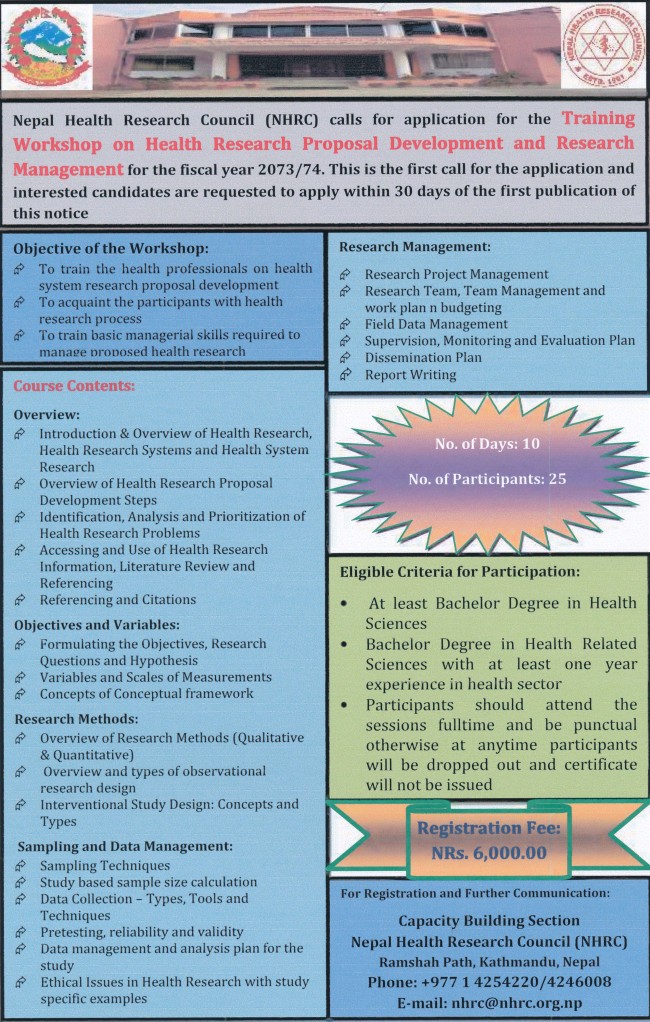 Downloads: DOWLOAD NHRC TRAINING APPLICATION FORM.xlsx

For Further Details, Please Contact Capacity Building Section of NHRC, Tel.: +977-1-4254220, E-mail: nhrc@nhrc.org.np