Kathmandu Forestry College is organizing an event "International Agroforestry Conference 2018" with aim of promoting agriculture and forestry in Nepal.
The slogan of the event is "Promotion of Agroforestry for Rural Income Generation, Climate Change Mitigation and Adaptation".
Event Date: 27 to 29 April, 2018
Venue: Hotel View Bhrikuti, Godavari, Kathmandu,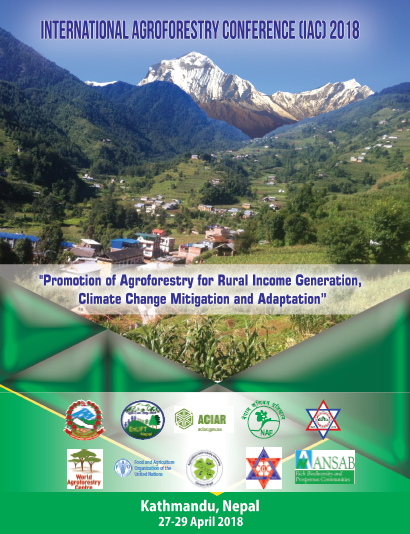 Candidates willing to participate should submit their abstract for presentation in one of the following themes.
Theme 1: Agroforestry and Sustainable Development
Agroforestry for poverty alleviation; food security and livelihoods improvement; agroforestry and gender equality; effects of rural labor out-migration on agroforestry; sustainable development
Theme 2: Agroforestry Technological Innovations
Field and lab research work on climate-smart agroforestry technology generation and adaptation, agroforestry on abandoned agricultural land
Theme 3: Agroforestry for Environmental Conservation, Climate change Adaptation, and Mitigation
Agroforestry for climate change adaptations and mitigation, natural hazards management, climate resilient agricultural production; role agroforestry in watershed conservation; land and soil improvements.
Theme 4: Policy, Impact, and WayForward
National agroforestry policies, implementation; and future approaches for enhanced impacts
Last date of abstract submission: 30 January, 2018
Follow the link for registration to the event:
Find the pdf brochure download for the event here:

For more information:
Conference Secretariat IAC
Koteshwor
Phone: 01-5147211, 01-5147046