"Inter Medical School Physiology Quiz-2018, Nepal" is going to be held on 12th October, 2018. The quiz will be taking place at Nepal Medical College, Kathmandu coinciding the 'Physiology Friday, 2018' declared by The Physioloogical Society (UK).
The event is going to be hosted by Department of Physiology, Nepal Medical College in assistance from The Physiological Society (UK) and Kathmandu University School of Medical Sciences which will coordinate by the Physiological Society of Nepal.
Key Information regarding Quiz-2018
Three or four students per team
Maximum three teams per college/institute
If total numbers of teams are beyond twenty, the top 20 will be selected in preliminary round for semifinal.
The semifinal will be held in groups of five teams. The top four teams from semifinal will compete in the final for the prizes.
Text books for quiz: Guyton and Hall Text book of Medical Physiology by Dr Hall and Ganong's Review of Medical Physiology by Barrett KE et al
Quiz consists of
Basic Physiology
System-based
Applied Physiology
General knowledge apt to physiology
Regarding the Accommodation, we will act as facilitator between quiz team and selected hotel. The teams are liable to pay the accommodation and other associated cost. However, the local transportation will be provided from the hotel to venue during quiz day.
Please book your seat prior to formal registration. If team failed to register by deadline the preference goes to the other teams who are in waiting list.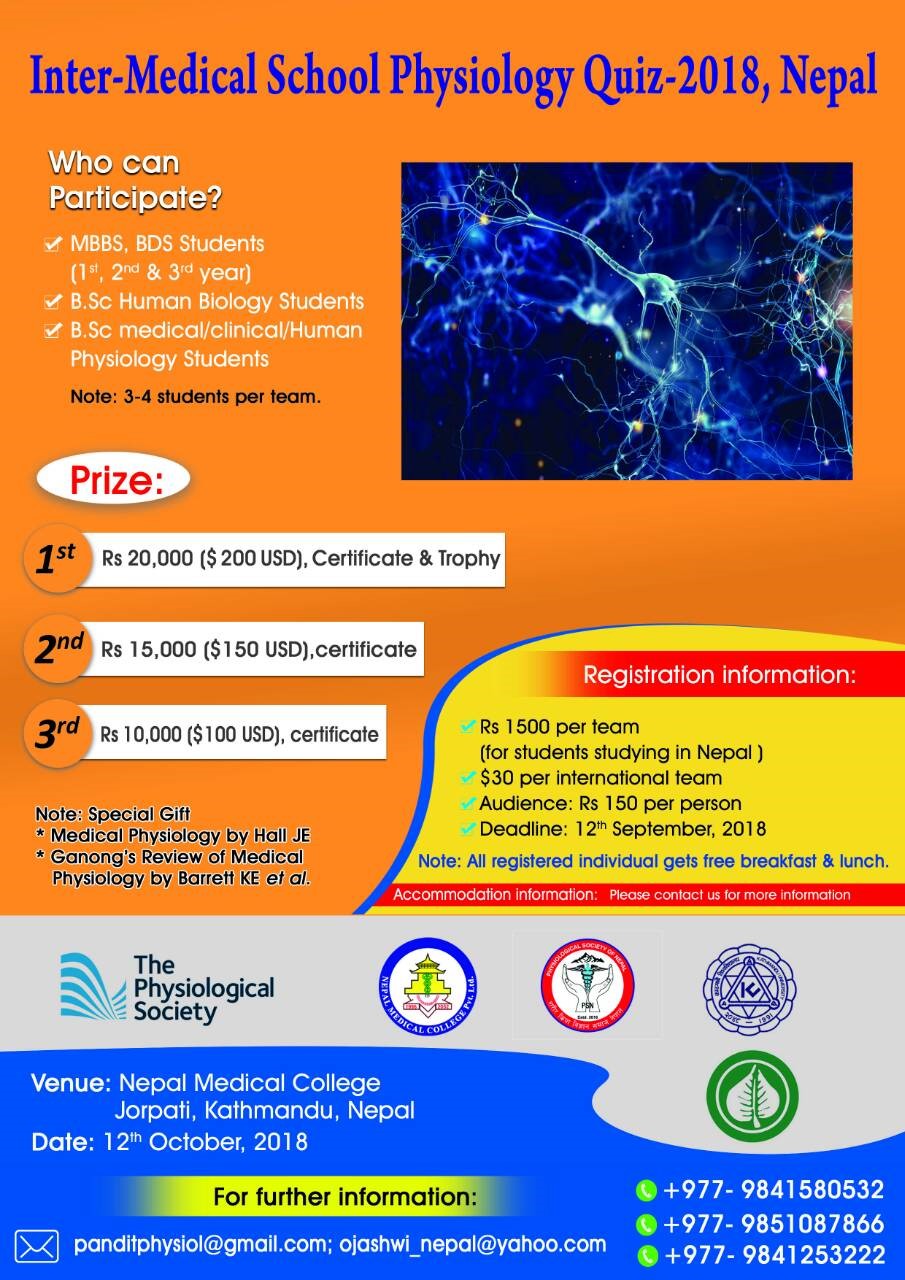 Eligibility for participation
MBBS, BDS Students (1st, 2nd and 3rd Year)
BSc Human Biology Students
B.Sc Medical/Clinical/Human Physiology Students
Venue: Nepal Medical College
Jorpati, Kathmandu, Nepal
Date: 12th October, 2018
Form Submission Deadline: 12th September, 2018