The Nepalese Association for Clinical Chemistry (NACC) is organizing its 3rd annual conference from 2nd to 3rd March 2019 at Manipal Teaching Hospital, Pokhara, Nepal. The conference will provide an opportunity to earn, gather, exchange knowledge and share experiences with fellow participants on recent practices and advancements on Clinical Chemistry.
More than 300 clinical chemists all across the country and some from abroad are expected to attend the conference and present their research findings. Thus, the organizing committee of 3rd NACC-CON 2019 invites every renowned scientists, clinical chemists, research scholars, faculties and students from Nepal and abroad to amalgamate at the annual conference on clinical chemistry to be held on 2nd and 3rd March 2019 at Pokhara.
Prospective participants are therefore requested to submit their research abstracts for presentation in oral and poster sessions.

Conference Theme:
Securing better public health through advancement and prudent practices in clinical chemistry
Things to remember:
High quality abstracts describing original and unpublished results of work in all thematic areas of conference will receive priority for oral presentation.
Abstract submission alone does not constitute registration for the conference and presenters are therefore required to register separately.
Please read the guidelines and review criteria carefully before writing and submitting the abstract. Click here to know Guidelines and Criteria
Please also indicate your desired mode of presentation (oral or poster) during the submission of your abstract.
Submitted abstracts will be reviewed and, upon acceptance and recommendation by the Scientific Committee, the presenting author will be invited to present them either in oral or poster session. Major thematic areas for abstract submissions include:
Clinical Chemistry & Laboratory Medicine
Genomics, proteomics & lipidomics
Molecular pathology and medicine
Molecular, cell and cancer biology
Human nutrition
Molecular epidemiology
Medical biotechnology & bioinformatics
Biomarker discovery and validation
Therapeutic drug monitoring and Toxicology
Innovation in Biochemical education
Microbial biochemistry & Immunology,
Medicinal and natural product chemistry
Important Dates
Abstract submission deadline: February 15, 2019 (Extended)
Notification date: February 20, 2019 (Extended)
3rd Annual conference: March 2-3, 2019
NACC Executive body AGM: March 3, 2019
Email for abstract submission: [email protected]

Venue: Dhanvantari Auditorium Hall, Manipal Teaching Hospital, Fulbari, Pokha
Certificates and Awards
Certificates of participation and the best presentation awards will be distributed at the end of the conference
For further enquiries, please contact
Prof. Dr. D. R. Pokharel, Organizing Secretary, Mobile: +977-9851148513 or
Mr Naval Kishor Yadav, Treasurer, Mobile: +977-9846856696
Email to: [email protected]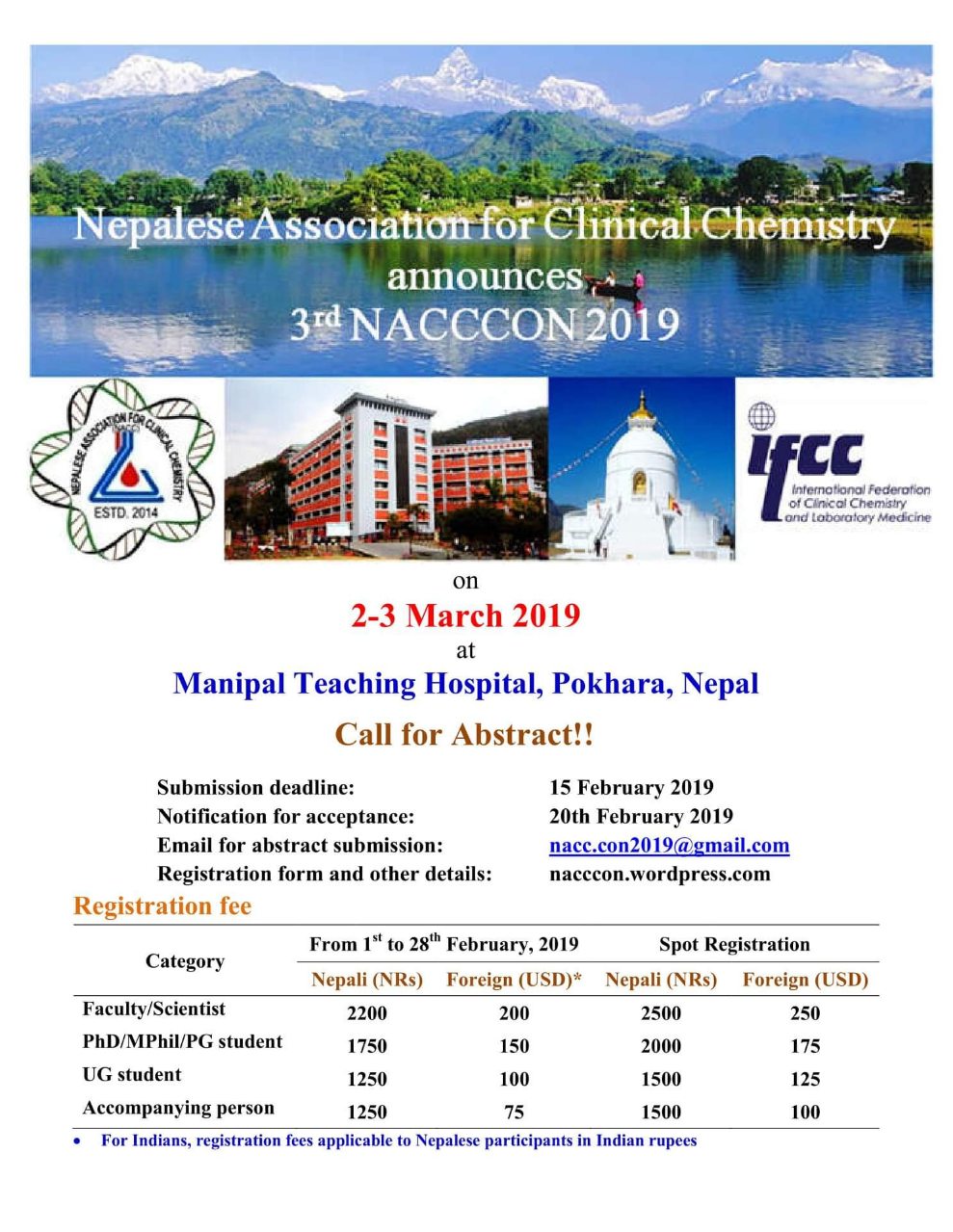 View the speakers invited at 3rd NACC-CON 2019