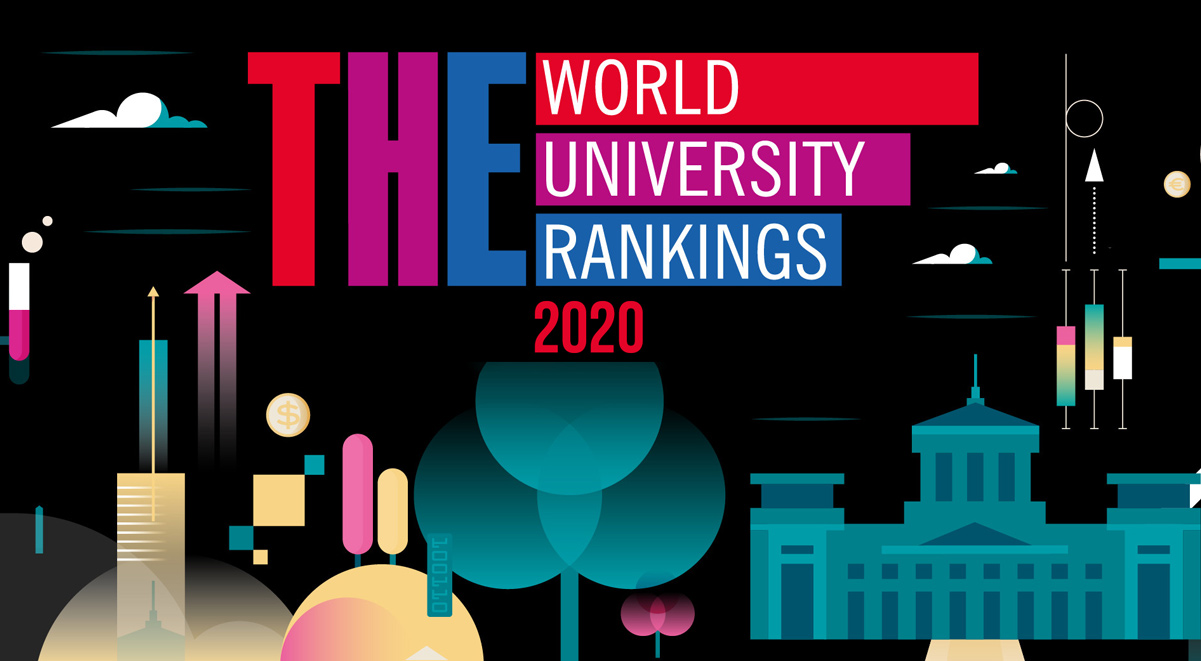 Times Higher Education has published World University Rankings for the year 2020. The publication is a remarkable international team effort. Times Higher Education (THE) has a dedicated unit of full-time data specialists working on collecting and analyzing data in order to deliver important new insights and to support universities around their world to realize their extraordinary potential. The THE World University Rankings 2020 include almost 1,400 universities from 92 countries.

Legions of dedicated professionals provided a total of about 251,000 institutional data points this year alone, and are helping THE to build and expand the world's deepest and richest database of comparable information on university performance from which only 1,396 made the final cut and entered the rankings this year.

The top 10 universities in the World are given below. The list is dominated by the universities from UK and United States.
| | | |
| --- | --- | --- |
| Rank in 2020 | University Name | Country |
| 1 | University of Oxford | United Kingdom |
| 2 | California Institute of Technology | United States |
| 3 | University of Cambridge | United Kingdom |
| 4 | Stanford University | United States |
| 5 | Massachusetts Institute of Technology | United States |
| 6 | Princeton University | United States |
| 7 | Harvard University | United States |
| 8 | Yale University | United States |
| 9 | University of Chicago | United States |
| 10 | Imperial College London | United Kingdom |
Once again, the University of Oxford tops the 2020 edition of the rankings for the fourth consecutive year, but most of the country's other leading institutions have fallen. The rankings always have been overridden by old established universities because of their reputation. However, this seems to be challenged in the recent years sure to the rise of STEM subjects, the rise of the Asian powerhouse universities and by the shifting generations of academics and scholars.
The US has 60 institutions in the top 200 of the table, down from 63 in 2016. The UK has faced an even bigger decline in terms of representation, with 28 universities in the top 200, down from 34 four years ago. In the past year, 18 of these 28 have dropped by at least one place.
In contrast, institutions in Germany, China and Australia have made significant progress. Germany managed to boost its numbers in the top 200 in the same period by three to 23, China by five to seven and Australia by three to 11.
Germany is another nation that has improved its standing over the past five years. While this year's results present a mixed picture for the country when compared with last year, the longer-term trend is much more promising. There are 23 German universities in the top 200 this year, up from 20 in 2016.
Meanwhile, mainland China has continued its ascent of the rankings this year and is now home to the top two universities in Asia for the first time. Tsinghua University holds on to the number one spot in the region, despite dropping one place since last year to 23rd, while Peking University is now second in Asia.

Australia is another strong performer. The country has a record 11 representatives in the top 200 this year, up from nine last year and eight in 2016. The university's teaching and research reputation both rose significantly this year, as reflected by the institution featuring in the top 100 list of the World Reputation Rankings for the first time in July.
Nanyang Technological University, Singapore is another riser. The institution has climbed three places to joint 48th, its highest ever rank, largely due to an improved research reputation score. NTU's pioneering efforts to introduce flipped classroom pedagogy, technology-enhanced learning and other improvements to the learning environment have delivered results. It focuses on technologies such as artificial intelligence, robotics, machine learning, and 3D printing which are the popular areas in current time.
Many of the Excellence universities have employed people with expertise in analyzing rankings. They are part of strategic teams in the universities and this played a key role in this process. Alongside this expansion in student numbers, many universities are producing more research publications per academic each year in an ever increasing number of fields; establishing more international partnerships; building more infrastructure; and securing more funds from a rising number of sources.
There are more and more viable options around the world at leading institutions and the competition for talent at the top of any industry is always extreme.
Many Asian universities have also garnered a top position in the rankings. A recent THE analysis of the latest reputation data found that young academics are more likely than their older peers to hold new, Asian or technology-focused universities in high regard.
Each different country of South East Asian region has been selected and analysed in the table below. The ranking reflects their position in the World Ranking of 2020.

| | | |
| --- | --- | --- |
| Rank in 2020 | University Name | Country |
| 301–350 | Indian Institute of Science | India |
| 401–500 | Quaid-i-azam University | Pakistan |
| 401–500 | University of Peradeniya | Sri Lanka |
| 1001+ | University of Dhaka | Bangladesh |
| 1001+ | Tribhuvan University | Nepal |
In the South East Asian region, India leads in terms of entries, and the top most position is received by Indian Institute of Science. The rise of the Indian Universities in World Ranking is due to its focused and long-term investments and commitment to excellence in education, research and innovation.
Nepal's top university, Tribhuvan University is ranked at 1001+. Tribhuvan University has a potential to make significant progress in the coming years but it needs to invest much more in infrastructure, equipment and human capacity. Other Nepali institutions can also compete in the World Rankings if they are able to deliver transformational teaching, research, innovation and impact in the coming years.

Click here to browse the university rankings for the year 2020