Namuna College and Fashion Technology's annual Graduation Fashion Show is not just an important part of their curriculum but also serves as a platform that has on display creations of fledgling talents of the Nepali fashion industry. Each year, the show lays down markers for how the industry is evolving and also avant garde concepts that are yet to take root in the mainstream. This year's edition was no different. With a total of 57 graduating designers showcasing their works on the ramp, the 12th edition of Namuna College's graduation fashion show—titled Journey of Fashion XII (Ricorrenza De La Moda)—took place this weekend in the Capital.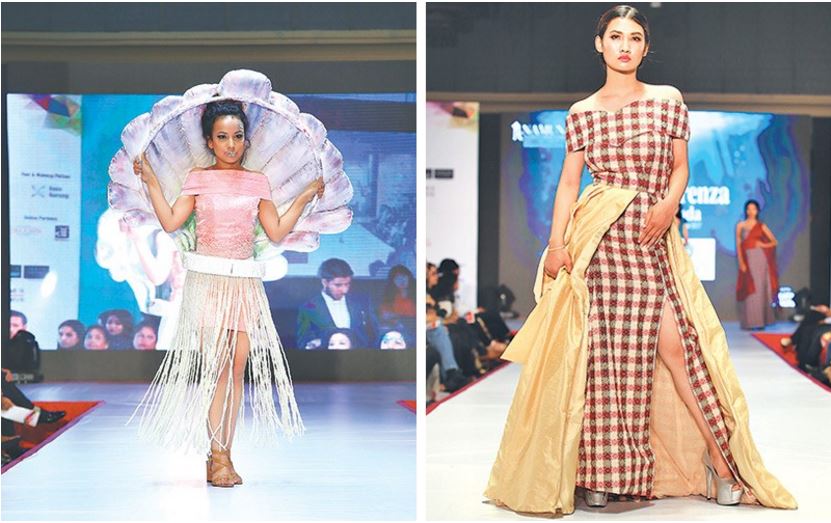 At the event, the student-designers showcased their designs in six sequences—Lolita Fashion, Indo-Western, Street Wear Fashion, Beauty Queen, Corporate Wear and Creative Wear.
The first of the sequences—Lolita Fashion—was based upon, and themed after, the eponymous Japanese subculture, which takes its inspiration from Victorian children's wears. The garb designed under this sequence made use of frills, flounce, lace and ruffle, with their colours mostly ranging from pink and pastel orange to green.
Meanwhile, Indo-Western sequence presented a mix of traditional outfits popular in the Indian sub-continent and western world, which make use of materials such as raw silk, tulle fabric and net. The third of the series, Street Wear Fashion, was a collection of contemporary, casual wear mostly worn by youth in urban subcultures. The clothes under this series make use of natural colours, focusing on the minimal and casual looks.
Beauty Queen, a sequence dedicated to eminent fashion designer Gyani Shova Tuladhar, featured works inspired by Tuladhar, which make use of raw silk, satin and dhaka, among others, to create outfits such as floor-length gowns, princess line and raglan sleeve, among others.
Corporate Wear series featured clothes designed to be worn by businessmen and women, salespersons and other professionals.
The highlight of the show, Creative Wear series, was themed 'Marine Life,' wherein 12 groups comprising of four students each, showcased works that were inspired from the plans, animals and the waves of the sea.
The designs were judged by an adjudicatio panel comprising Kul Bahadur Basnet, Kiran Prakash Saakha, Vivekananda Mishra, Stella Maris Haefele, Bhim Kumar Giri, Achal Raj Satyal and Alpaja Rajbhandari, Prashant Tamrakar and Aaryan Sigdel.
The grades assigned at the Graduation Fashion Show will now be added to the grades that the graduating designer received and will later be published by the Purbanchal University as part of its End Semester Board Examinations.
(Source: The Kathmandu Post)