Office of the controller of examination, Bhaktapur is in final preparation of publishing the results of SLC. According to the official source at SOCE, they are preparing to publish the result within 3rd Ashad, 2073.

Examination Controller Krishna PRASAD Karpi said, "We are can currently re-checking the marks entered and and the preparation is nearly in final phase, if we did not encounter major problem, we will publish the result within 3rd Ashad). The examination of SLC was held from Chaitra 18, 2073.
OCE said a total of 615,553 examinees appeared in the examinations in different categories.
Last year, SLC results were published on the 80th day after completion of the examinations.
This year SLC result will be published in grading. Find more about
Not all students appearing for the SLC examination will be allowed to enroll in Ten Plus two level.
Find out eligibility to study different subjects in Plus two level
How to view SLC Results
SLC results can be viewed online browsing websites or via SMS. This year edusanjal is not publishing the results online as well as via SMS, as you can easily view the results via following websites.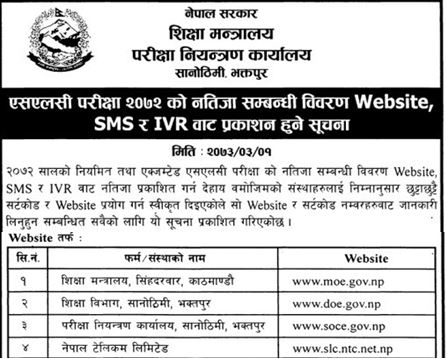 SLC result can be viewed via SMS or IVR. The short codes are
Nepal telecom: SMS to 1600 (Cheapest one; will take only Rs. 1 plus tax)
Nepal Telecom: IVR to 1600
For other service provider the cost will be Rs. 5 plus tax.