Government of Nepal, Ministry of Education, today published an urgent notice regarding permission to run classes from grade 1 to 11 from foreign affiliation.
Many schools in Kathmandu and across Nepal who is currently teaching the CBSE curriculum are not registered with Government of Nepal.
Ministry of education has given a period of one month to apply for the registration. It also warns that if any schools failed to apply in the above mentioned time frame; it wont verify the academic certificates of those students reading on unregistered schools which will have a major impact in the career of the students.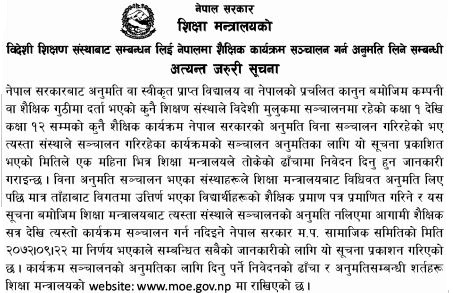 There were altogether 14 schools affiliated to CBSE in Nepal, including the Kendriya Bidhyalaya on the premises of the Indian Embassy in Kathmandu. Except Kendriya Vidyalaya, all other schools have not registered with any of the government authorities to evade tax as well as to teach a foreign curriculum in Nepal.
According to the notice, the schools have been asked to register themselves with government bodies within the current academic session; otherwise, they will not be allowed to enroll students in the new academic session.
The ministry has also clearly stated that if any school refuses to come under government regulations, it will not be verifying the certificates gained by those students who have passed from those schools.
Hari Lamsal, spokesperson, MoE, said the notice was published after the directive from the social committee of the cabinet to bring those schools under government law.
He said, "After this move, no school following a foreign curriculum without registration in the country will be eligible to enroll students without permission from Nepal government."
As per the new rules for schools running foreign curriculum, the schools running classes up to grade VIII have to deposit Rs 800,000 and schools running classes up to grade XII have to deposit Rs 1.5 million in Banijya Bank of 'Ka' category.
Some Schools offering CBSE curriculum in Nepal