Kathmandu, Nov 19 (RSS): Prakash Dahal, the only son of CPN (Maoist) Chair Pushpa Kamal Dahal 'Prachanda' died of sudden cardiac arrest, according to doctors.
Dahal, who was brought to the Thapathali-based Norvic International Hospital at 5:50 this morning, was dead upon arrival, cardiologist at the hospital Dr KP Agrawal said at a press conference held at the hospital. "We had declared him dead nine minutes after he was brought here," he said.
Doctors also said that Dahal could have died three hours before he was brought to the hospital. "He suffered a sudden cardiac arrest, as his body looks normal, and that could be the 99 per cent cause behind his death, while one per cent could be of brain haemorrhage", Dr Agrawal said.
Dahal had returned to Kathmandu on Saturday itself from Chitwan, where he was campaigning for his father in the upcoming elections. He had gone to bed after having rice soup the same evening and was found unconscious the next morning at his Lazimpat-based home.
Meanwhile, Chairman Prachanda flew back to Kathmandu from Jhapa this morning and had reached the hospital at 11:30 pm. He was accompanied by his daughter and Bharatpur Mayor Renu Dahal. Prakash's first wife Srijana Tripathi and second wife Bina Magar also reached the hospital in a state of shock and grief. Tripathi had to be admitted to the hospital emergency ward after she fainted. Prakash's mother Sita Dahal also had to be treated at her residence by a team led by Dr Yadav Bhatta, after she experienced health complications upon hearing of her son's demise.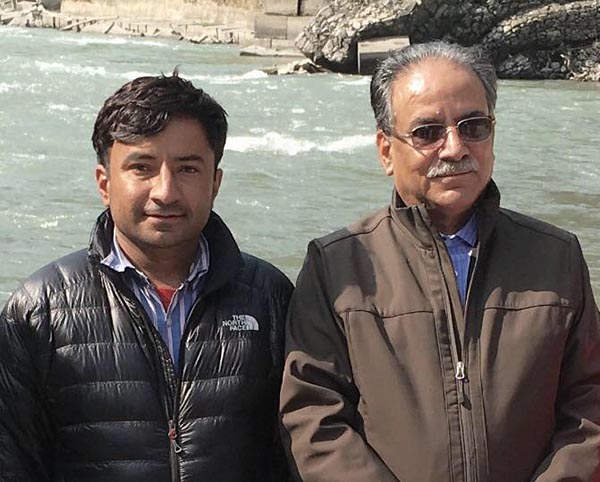 Leaders pay their last respects
Political party leaders have paid their final tributes to former Prime Minister Pushpa Kamal Dahal's son and central member of CPN-MC Prakash Dahal at the party office in Parisdanda today.
Chairman Dahal wrapped the body of his son Prakash with the party's flag while senior leaders of Nepali Congress, CPN-UML, the CPN-MC and other parties reached the party headquarters to pay their final respect, according to CPN-MC spokesperson Pampha Bhusal. Prakash will be cremated at Pashupati Aryaghat today itself.
edusanjal family wishes heartfelt condolence to the bereaved family, may his soul rest in peace.