A Glorious Moment For Nepali.

New York, October 24.
One of the glorious moment happened in New York when a highly motivated social worker raised one of the world's most prestigious award for excellent social work. On the auspicious occasion of UN Day 2017, a Nepali citizen Nawal Yadav received a prestigious award. United Nations Secretary-General Award 2017 by Ms. Amina J. Mohammed, Deputy Secretary- General of the United Nation at the UN Secretariat New York on Tuesday. Each year the United Nations provides the Secretary-General Award to the staff who has contributed above and beyond the call of duty. Coinciding with the United Nations Day, the United Nations Secretariat awarded the Secretary-General Awards to winners in the four categories.
Secretariat had received a total of 121 nominations of which four finalists were selected in each category. One of the categories was Champion of the Sustainable Development Goals (SDGs). Mr. Yadav was the winner of the Secretary-General Award in the category "Champion of the SDGs" for his support to community school in Nepal.

Under the United Nations General Assembly resolution 70/1, Member States universally approved 17 SDGs as the 2030 Sustainable Development Agenda. Access to quality education is one among the SDGs. The people are at the heart of these goals which in totality aim to "leave no one behind". As the champion of the SDGs was introduced as an award category for the first time, to become a recipient of such prestigious award not only represents a significant achievement in his career but more importantly it is a matter of pride for the country Nepal and Nepalese around the world.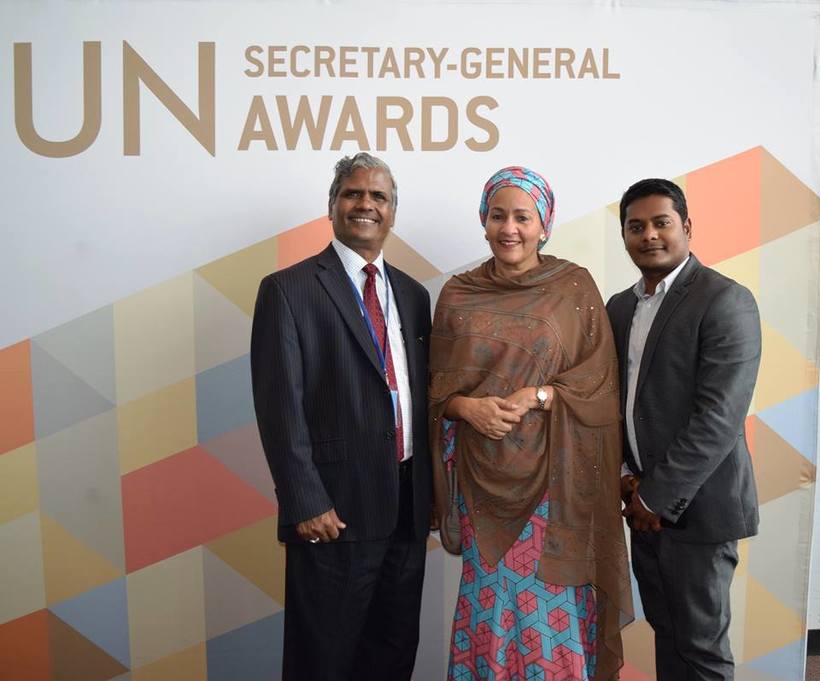 Born and raised in the Village Timakiya of Mahottari District of Nepal, Mr. Yadav had joined the United Nations service as an internal auditor in April 2003 and served for 14 years at United Offices at Nairobi, Peacekeeping Mission in East Timor, Peace Keeping Mission in Sudan and the United Nations Headquarters at New York. Mr. Yadav is a Chartered accountant. Prior to joining the United Nations, he had served 25 years in Nepal Government and three years in PricewaterhouseCoopers associated firm in Nepal.
It is a pride to be a recipient of such a prestigious Award at the international level. Inspired by the Millennium Development Goals of achieving universal primary education, Mr. Yadav has been supporting the community school in Nepal, where he completed his primary education. He contributed from his savings to the renovation and development of the school infrastructure, to help to improve the quality of education, and founded the "Nawal-Dukhani Yadav Foundation" to foster this Goal.