Higher Secondary Education Board (HSEB) published the results of grade 11, 49.20 percent students passed the examination.
You can view your results with marksheet online at HSEB.EDUSANJAL.COM

उच्च माध्यामिक शिक्षा परिषद् सानोठिमीले बिहीबार कक्षा ११ को परीक्षाफल सार्वजनिक गरेको छ । परीक्षामा ४९ दशमलव २० प्रतिशत विद्यार्थी उतीर्ण भएका छन् ।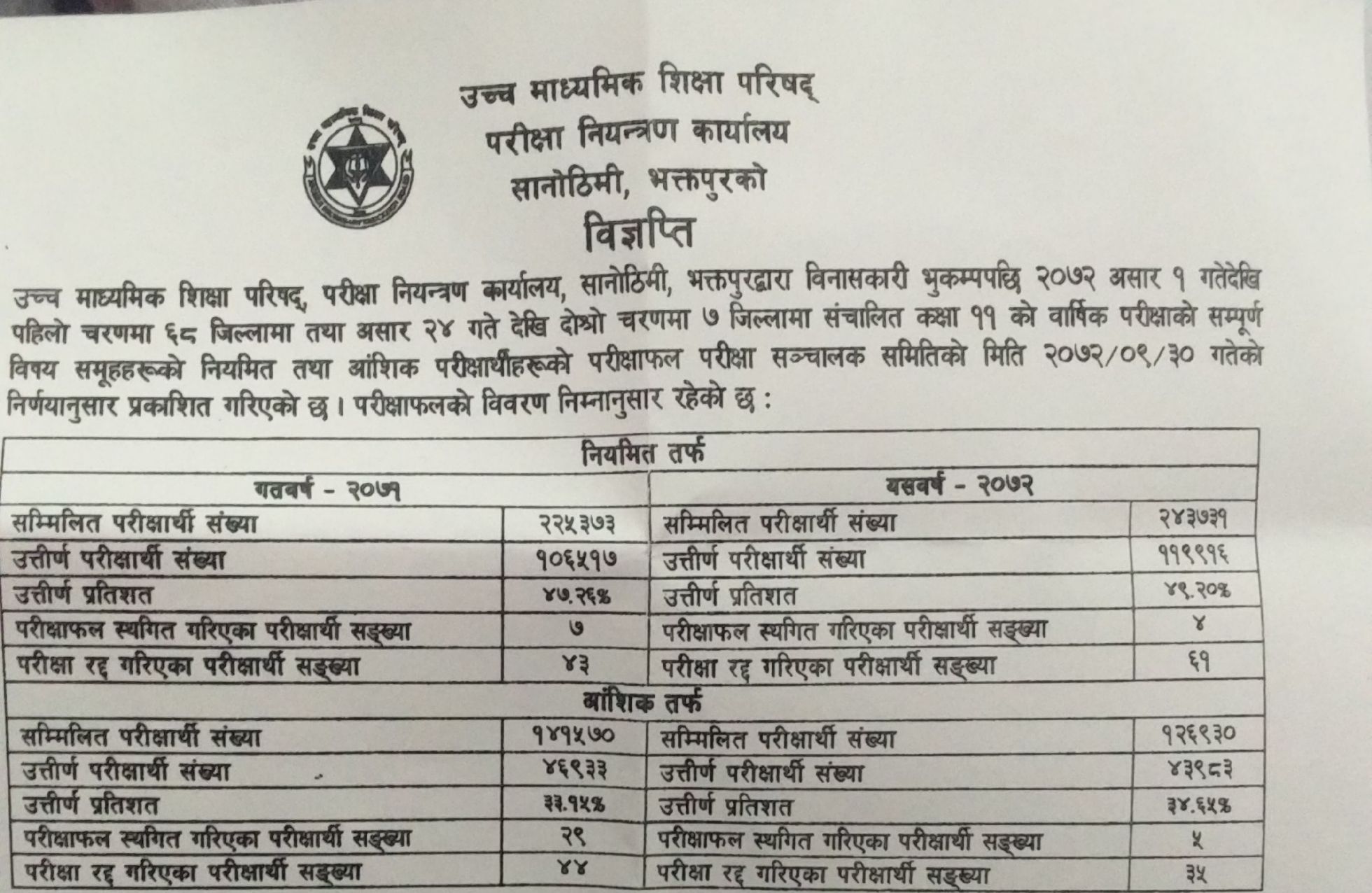 परीक्षामा नियमित तर्फ २ लाख ४३ हजार ७ सय ३१ जना परीक्षार्थी रहेकोमा १ लाख १९ हजार ९ सय १६ जना परीक्षार्थी उतीर्ण भएको परिषद्का उपाध्यक्ष डा. चैतन्य शर्माले जानकारी दिनुभयो । परीक्षार्थी मध्ये ४ जनाको परीक्षा स्थगित गरिएको छ भने ६१ जनाको परीक्षाफल रद्ध गरिएको छ ।
आंशिक तर्फ भने १ लाख २६ हजार ९ सय ३० जना परीक्षार्थी सहभागि भएकोमा ४३ हजार ९८३ अर्थात ३४ दशमलव ६५ प्रतिशत परीक्षार्थी उतीर्ण भएको उहाँले जानकारी दिनुभयो । परीक्षार्थी मध्ये ५ जनाको परीक्षा स्थगित गरिएको छ भने ३५ जनाको परीक्षाफल रद्ध गरिएको छ । गतवर्ष भने ४७ दशमलव २७ प्रतिशत परीक्षार्थी उतीर्ण भएकोमा यसवर्ष उतीर्ण प्रतिशत बढेको शर्माले जानकारी दिनुभयो ।
Students who are not not convinced with the marks they secured in grade 11 examination result can apply for re-total within 35 days of publication of result. You have to pay Rs. 500 fee along with your marksheet. You can download your marksheet from HSEB.EDUSANJAL.COM
NOTICE FOR HIGHER SECONDARY SCHOOLS: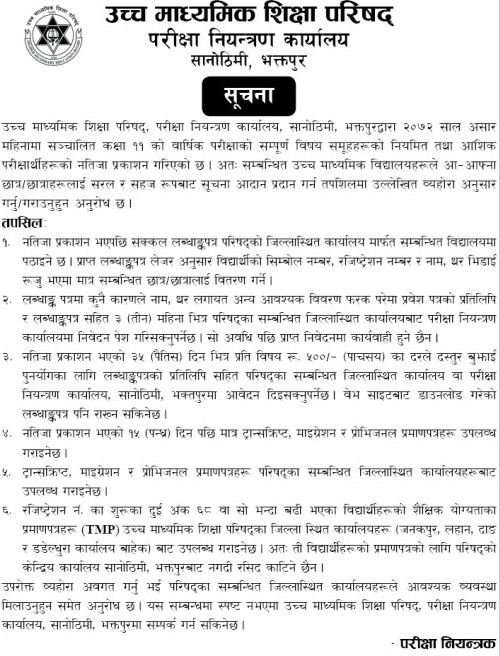 Regular students who have either absent in one theory subject or failed in one subject can sit for the grade 11 chance examination, which will be held on Magha 29.
VIEW DETAIL NOTICE ABOUT GRADE 11 CHANCE EXAMINATION HERE
Old updates:
Higher Secondary Education Board (HSEB) is in final preparation to publish the result of 11 grade which were held nearly 5 months ago. As per rules, the HSEB OCE is required to publish the results within 90 days of the examinations.
This year the examination of grade XI was held in two shift due to Earthquake.First shift of examination was held from Ashad 1, 2072 and for the earthquake affected districts the examination was held from Ashad 24. Three lakh, 46 thousands, five hundred sixty seven students has taken part in this examination.
Not only the students are bothered by this perennial problem, but it has also made their parents desperate.
Finally, the wait is going to over. According to HSEB officials, they are cross checking the list and if no technical problems occurred result will be published by today evening.
HSEB is in pressure to publish the result today; as the examination form to participate in the grade 11 examination is scheduled to open from Friday (tomorrow).
"STAY WITH US; AS SOON AS NEW DEVELOPMENT HAPPENS; WE WILL SHARE HERE"

REFRESH THE PAGE
Special notice: Please share with your friends/family that you can view result with marksheet online at HSEB.EDUSANJAL.COM
4:44 PM: HSEB officials took our pen drive to put the result data. We are waiting for the file.
4:35 PM: We got information that meeting is going to over. In the next 15 minute, press meeting will be organized and result will be announced.
4:15 PM: All the official publishers of HSEB result are waiting for the data in the premises of HSEB. Result DATA has not been distributed yet. Generally HSEB gives result data after announcement of result. So if the result get announced on 4:30 pm; you can expect to check your result online or via sms only after 5 pm.
3:50 pm: HSEB officials just give us information that, it will still take 30 minute more to declare the result.
3:12 pm: Just waiting outside HSEB office
2:55 pm: We are waiting outside the premises of HSEB Exam controller office. The meeting of examination committee is ongoing inside the hall. Once the meeting complete, result will be announced.
2: 15 pm: We are very near to HSEB office. We will update more info once we reached OCE premises.
1: 30 pm: Just now HSEB called us to visit HSEB OCE within 2:30 pm to collect the result.

12: 46 pm: We just got the news that HSEB has called the meeting of examination committee (we have verified the news). The meeting is scheduled to take place within few hours. As a rule, after the meeting of examination committee is over; result get published.
How can i view the result of grade 11 with Marksheet?

The result of all subjects of grade 11 will be published at once. edusanjal.com is the official publisher of HSEB result 2072. Here is the process to view result
Go to HSEB.EDUSANJAL.COM
Enter your roll number and press enter; it will show your pass/fail result.
Now click the next tab "Mark Ledger"
Put your roll number there; and Date of Birth or HSEB registration number.
Press Enter
You will see your marksheets.