National Examination Board (NEB) published annual results of grade 12 Management, Humanities and Education faculties today.

According to National Examination Board 48.17% students passed in the regular category and 39.59% passed in the partial category.
Students can view the results of grade 12 with marksheet in hseb.edusanjal.com.
Already passed grade 11 results (regular and via chance examination), and failed only in one subject in grade 12, you are eligible for Chance Examination for Grade 12.
Result Statistics here: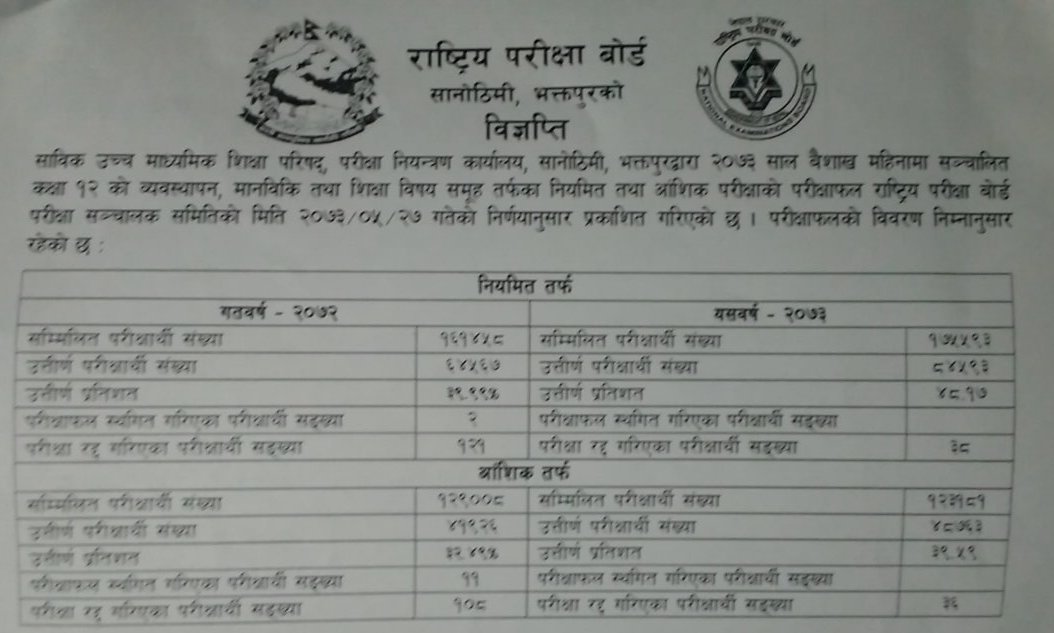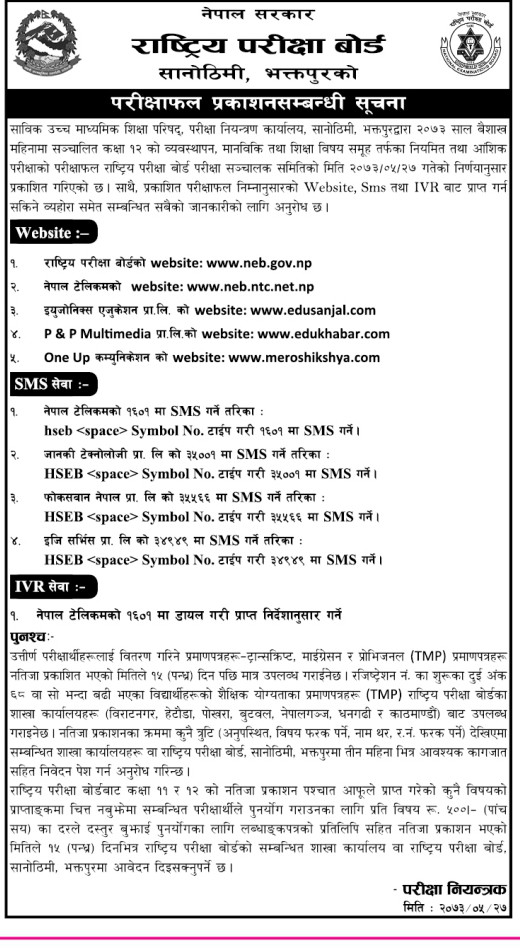 Students who are not satisfied with the marks they have got in particular subjects, they can apply for re-total within 15 days of publication of this result.
Fee for Re-total: Rs. 500
You can download marksheet for re-total purpose from here;
OLD UPDATES:
The officials at the National Examination Board said, the final preparation and cross checking is ongoing now. After the completion of this a meeting of the examination committee will be held around 4 pm and the result may get publish by 5 pm.
Update 5: 40 pm: Our representatives are waiting outside National Examination Board. The meeting is ongoing. Some delay in publication in results expected. As it takes time to upload the results too, so students may be able to view results only around 6: 30 pm (if everything happen quickly from now on wards).
Update 5 pm: The meeting of examination committee is ongoing now. After the meeting of the examination committee is over, results will be published.
Edusanjal is the official result publisher of National Examination board in online. We have also got call from National Examination board to be in ready position to host the results. Our representative will be visiting Examination controller office within few hours to collect the results.
The NEB, on August 16, had published grade 12 Science stream results. The examinations of grade 12 were held from May 2 to May 13 earlier this year. After the results get published students can view the result in hseb.edusanjal.com.