Tribhuvan University (TU), Office of the Controller of Examinations today announced chance exam form fill up notice for years Bachelor level Third year for the faculties of Humanities, Management, Science, Law, and Education for partial examination (both regular and private students).

Regular students who have enrolled in 2058 BS and appeared for the first year examination in 2059 BS but could not clear so far are eligible to sit for the examination for the last time similarly this will be the last examination of Bachelor Third year for partial students who have appeared first year examination first time in 2059 BS.
Students have to submit the application form to their respective campuses, and private students can submit their exam application form to TU OCE Balkhu or respective regional offices of Tribhuvan University Exam controller office.

Last date of form submission: 2073/12/01
Updated : 2073/11/08
Urgent notice regarding chance exam fill-up for three year bachelor's level.
See more at;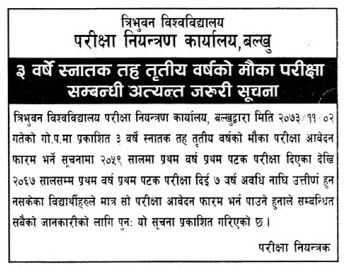 For more detail read official notice