B. P. KOIRALA INSTITUTE OF HEALTH SCIENCES DHARAN, NEPAL
ENTRANCE EXAMINATION - 2017 RESULT OF MBBS AND BDS PROGRAMS
(IN ORDER OF MERIT)
FIRST ANNOUNCEMENT FOR COUNSELING
The merit list for counseling of the candidates who have qualified in the MBBS and BDS Entrance Examination held on 29th July 2017 is as follows.
The first counseling will be held on Wednesday, 9 August 2017. The candidate in the merit list must be present physically at the time of counseling in the counseling hall (Auditorium Hall of BPKIHS).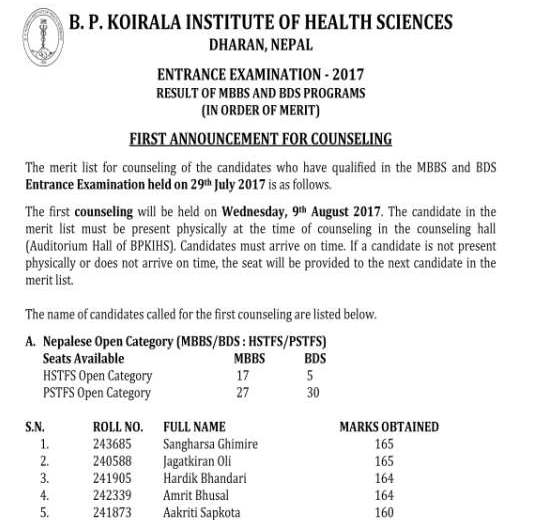 Candidates must arrive on time. If a candidate is not present physically or does not arrive on time, the seat will be provided to the next candidate in the merit list.
The numbers of candidates are three times the total number of seats available in that particular category.
Downloads: