Nepal Academy of Tourism and Hotel Management (NATHM), one of the reputed hotel management college of Nepal has celebrated its 44th Anniversary on 26th March 2017. Vice-president Nanda Bahadur Pun has inaugurated the program.
Inaugurating the function held in Kathmandu, he said "Nepal is a country full of natural and cultural diversity, and one of the most attractive tourist destination across the globe but Nepal is yet to explore its tremendous potential of tourism". Vice President pun stressed that NATHM has to attract international students in Nepal and also expressed the need of developing NATHM as a Tourism University.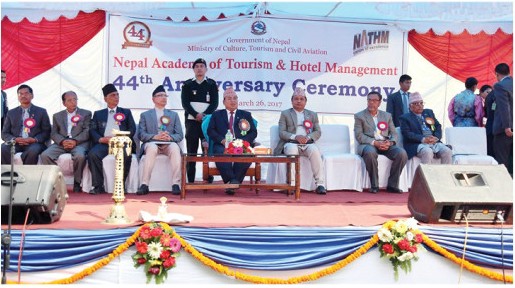 Managing Director of NATHM Chunamani Sharma Kattel said that NATHM has been running various academic and training programs to develop manpower for the development of Tourism and Hospitality sector. He said so far 45,000 students have got training from NATHM and most of them have secured job in various prestigious National and International Hotels or Hospitality industries.
Currently NATHM is running BHM, BTTM and MHM programs.
Find details about these courses here: